Afghan saffron ranks no. 1
Afghan saffron once again has been recognised as the best saffron in the world by the International Taste Institute based in Brussels, which granted it a three-star award. This is the fourth time that Afghan saffron has gained recognition as the best in the world.
The delicate purple flower grows in Guzara, Injil, Ghorian, Pashtun Zarghun and Zindajan districts of Herat Province, where about 90% of all Afghan saffron is produced, according to local authorities.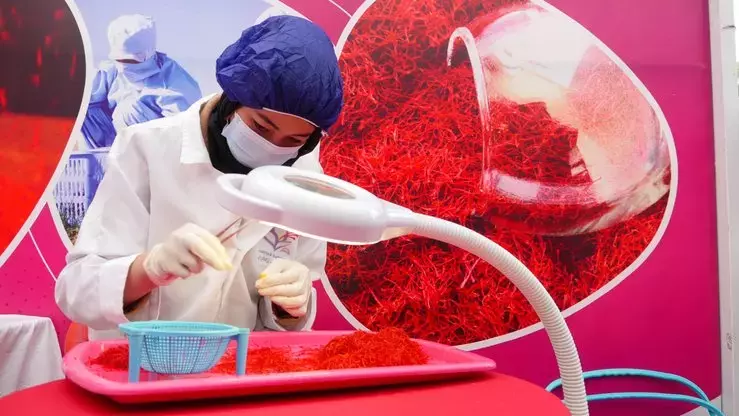 Because of Afghanistan's unique climate and environment, especially in Herat, the exotic spice is far superior to its Iranian substitute.
Over the past year, many farmers have spurned growing poppy, which criminals use to make illegal drugs such as opium and heroin, so they can cultivate saffron to boost their livelihoods, Alizai said. But the continued trafficking of Iranian saffron threatens to undo those gains.
Optimism about increasing production:
Farmers have planted more saffron bulbs this solar year, indicating a brighter future for saffron production in the country (Herat Department of Agriculture, Irrigation and Livestock)
The total saffron harvest in Herat this solar year was 20 tonnes, and based on their projections, it will go up to 25 tonnes annually in coming years (Bashir Ahmad Ahmadi, the department's technical deputy director)
Saffron was cultivated on 8,000 hectares of land this year, which yielded 20 tonnes, showing a 20% increase over previous years.
In the near future, the annual production of saffron in Afghanistan will reach dozens of tonnes, which will greatly help the economy (Ahmadi).
More than 20,000 families are engaged in cultivating and processing the plant in Herat, with 70% of saffron processed by women. The role of women in enhancing the quality of saffron in the country is critical.
The global first-place ranking stems from the hard work of farmers who cultivate saffron under tough circumstances, said Abdul Shakoor, a farmer in Pashtun Zarghun District.
Jan 2021